Elizabeth Price:
K
21st March - 10th June 2018
No.12 Houyongkang Hutong, Dongcheng, Beijing.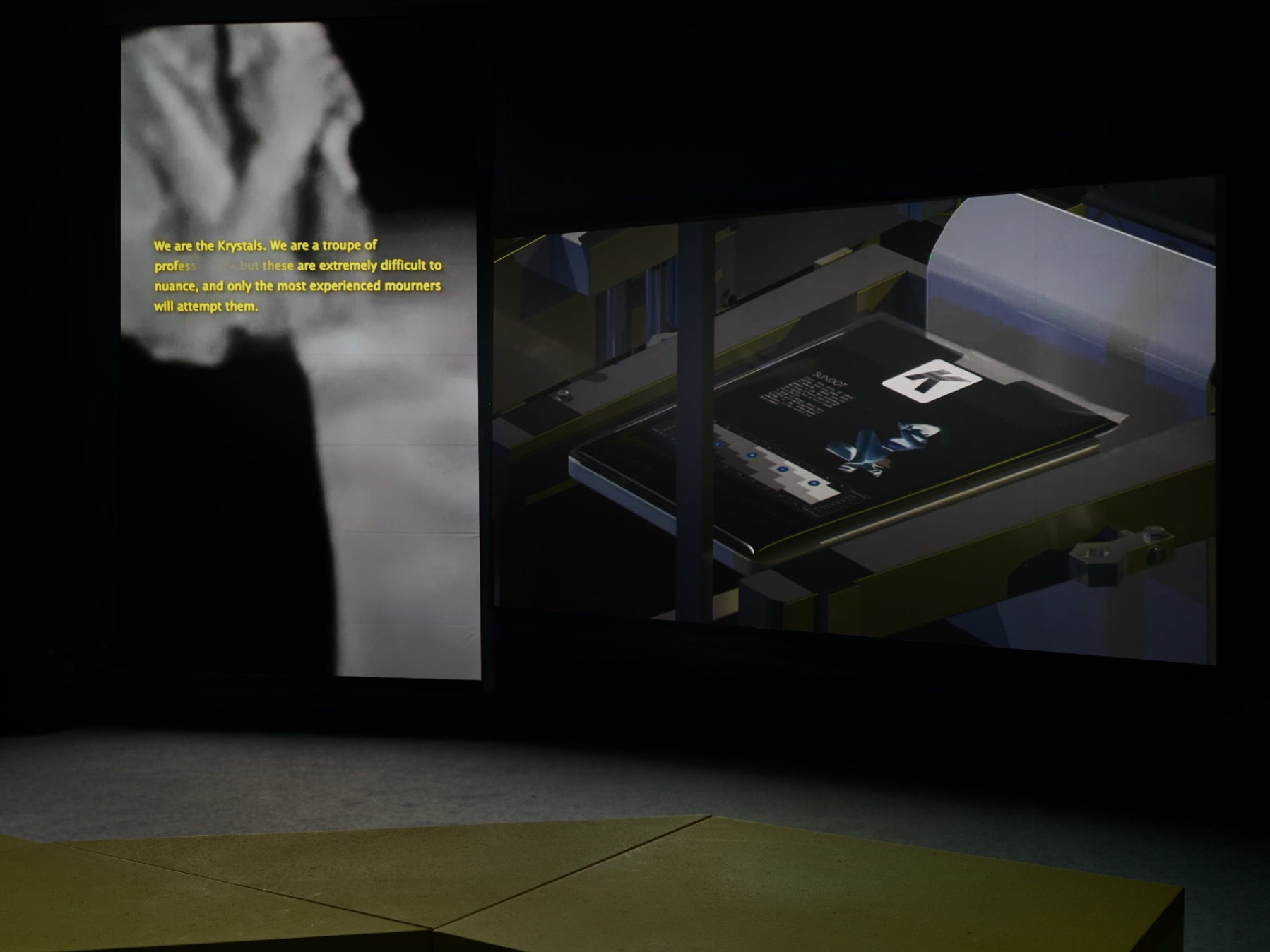 Wyoming Project presents Elizabeth Price: K, the artist's first solo exhibition in China.

K (2015), a two-screen video installation brings together disparate elements - text, image, synthetic voice and a stark, percussive soundtrack - in a witty and emotional exploration of lamentation, commerce and labour.

A ghostly stop-frame animation of the
sun–created from thousands of glass plate slides taken between 1870 and 1948 – plays continuously on one of the two screens. On the other, a hypnotic CGI animation follows the production - the weaving, folding and packaging - of nylon stockings. Images of dancers and singers migrate between the two screens, seemingly responding to both the light of the sun, and the motion of the machinery. Binding these visual elements together is a narrative composed by Price and attributed to the Krystals, a fictional group of 'professional mourners'. The synthetic voice, created using text-to-voice technology, describes the group's highly ritualised practice, and its cultural provenance.

This work extends Price's interest in digital moving image as a medium for polyphoniccomposition. In K as in all of her recent moving image works, the narration is ostensibly provided by a group. She draws on formal devices of multiple voice in music, theatre and literature, to convey the principle of over lapping, rather than unified subjectivities.The narratives are stranded rather than linear, and in K particularly, story telling is used as an agile intermediary, binding the dissonant, apparently estranged elements of the visual composition into unlikely synchronicity.

Elizabeth Price (UK,1966) studied at the Ruskin School of Art in Oxford, UK and received her BA in Fine Art in 1988. She received her MA in Fine Art in 1991 at the Royal Collage of Art in London, UK. In 2012 Price was awarded with the Turner Prize and the Paul Hamlyn Award, and in 2016 she received the Contemporary Art Society Annual Award. Her work has been exhibited at Tate Britain, London (UK); New Museum, New York (US); The Baltic, Newcastle (UK); Contemporary Art Society, London (UK); Julia Stoschek Collection, Düsseldorf (DE); Kunsthalle Winterthur, Winterthur (CH); Neuer Berliner Kunstverein, Berlin (DE) and Hessel Museum of Bard, Hudson, NY (US). In 2017 Price presented her work 'A Restoration' at the Institute for the Study of the Ancient World, New York (US), and had a solo presentation at The Art Institute of Chicago (US). Price will have a solo exhibition at The Walker Art Center, Minneapolis (US) in 2018 as well as a solo exhibition at Nottingham Contemporary (UK).

Founded in 2017, Wyoming Project sometimes does exhibitions and publications.